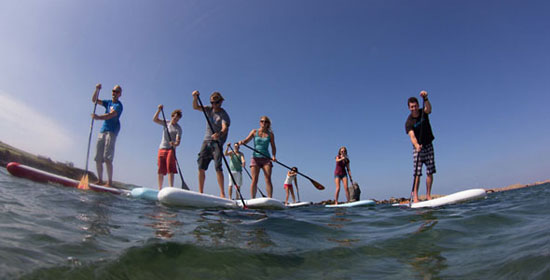 Which Red Paddle Co inflatable stand up paddle board is right for you?
By far the most common inquiry is "Which Red Paddle Co inflatable stand up paddle board should I get?" This usually means they have been looking at the 9'6″ All Water, the 10′ Surfer and the 10'6″ Ride and need some guidance from me to help steer them in the right direction.
The inquiry sounds pretty general but it usually involves someone around 140 – 180lbs, about 5'5″ – 6'2″, who will most likely paddle for fun on flat water, occasionally in the ocean (waves) or on white water, and might on occasion carry a young child or a dog on board too. Well, the question is narrowed down immediately to a recreational paddler who wants a nice stable board possibly some tie downs, room for a passenger, but nothing too big that they'll grow out of quickly.
---

Accent Paddles 3-piece SUP travel paddle comparison chart
Since we added the Accent Paddles range to our site a few weeks ago, they have proven to be very popular with their range of available models and price point. But, I've received many inquiries about which paddle would suit best, what the differences are between each model and which paddle is the best value.
So, running with our recent theme of comparison charts, here are the vital stats on the 5 Accent Paddles we carry.
---
How to install & remove a US box fin
Back in the day (15 years ago) my windsurf board had this type of fin slot. My current wave surfing paddle board has this type of fin slot. It's a very popular system and rightly so. It makes it extremely easy to install any fin size and shape you want and position it within the slot for a different feel.

Forward for looseness, back for better tracking among other things. So, as more and more inflatable stand up paddle boards become available with the US fin box and so many already featuring it, I thought it'd be a good idea to cover how to install and remove your fin.
---
Popular articles this week
---
New products at Green Water Sports